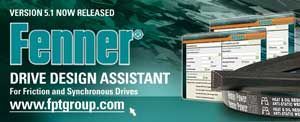 Fenner Select belt drive design program
1 December, 2017
Fenner Select belt drive design program - to help design the most cost-effective and efficient belt drives, using Fenner power transmission products.
Optimising belt drive systems at the design stage can contribute significantly to the operating life, reliability and overall efficiency of a belt drive system. The new 5.1 release of the Fenner Select® on-line Drive Design Assistant provides engineers with a structured and detailed approach to achieving exactly this and getting the very best from belt drives, from the design stage onwards.

Many years of design and application experience have been distilled into the new on-line 'Fenner Select® - Drive Design Assistant', taking into account literally thousands of variables and employing proven formulae to optimise performance and longevity. The system is free and available live on-line at www.fptgroup.com. There are also added benefits to users who register with the site enabling the storage of previous calculations for later reference (registration is free and easy to do on-line).

The design service will inevitably save a huge amount of time for engineers that frequently design belt-drive systems, allowing them to fine tune a design and check the theoretical performance before specifying components. Equally, designers and commissioning engineers with limited experience of specifying belt drives can now do so with confidence, drawing on acknowledged Fenner expertise, without leaving their lap-top.

While savings from less frequent pulley and belt replacement are beneficial, arguably the most important issue is energy saving. With the advent of higher energy costs and Enhanced Capital Allowances, small percentage increases in efficiency can reduce long term energy usage and provide substantial financial savings on fans, pumps and other machines powered by belt drives. These obvious targets tend to be run constantly and so provide the most substantial savings.

Belt drives are a prime example of an often-overlooked area where other gains in efficiency can either be wiped out or enhanced. For example, the right specification for a belt drive system can deliver a similar gain in efficiency as upgrading to an Eff1 electric motor from an Eff2. Site-wide, the difference can amount to many thousands of pounds each year in energy savings.

The speed ratio capability of a belt drive allows electric motors to drive machines while operating at their near optimum (most efficient) speed. Belt drives have low lifetime costs, are versatile and easy to maintain, but also contribute significantly to energy savings if correctly designed and installed.

Fenner Select® - Drive Design Assistant functions allow users to design a drive from first principles, make 'Calculations' of important parameters, experiment with 'drive dimensions' and optimise the design on a number of different variables. Once an optimum belt drive has been selected, the complete drive specification can then be sent to the local
Fenner authorised distributor for a quote, via the same website.

International Product Manager for Fenner Open Drive products, Bryan Burton, comments, "In creating this new web tool, we were determined to deliver more than just a simple selection table online; it includes all the design techniques perfected by Fenner over the years and should provide an invaluable support tool for designers and application engineers. Maintenance engineers can also use the system to check the efficiency of existing drive systems, check tension values and evaluate ratio adjustments to make sure that their plant is running as efficiently as possible".

"However, Fenner Select is just the first stage. The Fenner belt drive installation and maintenance kit, along with other Fenner tools, will help ensure optimum efficiency and reliability of belt drives over a long working life"
"Our customers can be assured that they will get the best commercial service and technical back-up for Fenner belt drives, regardless of which authorised distribution outlet they prefer to use".


About Fenner power transmission products

The Fenner brand started life over 140 years ago in the manufacture of transmission belts. More recently, Fenner chain drives, shaft fixings, couplings, gearboxes, electric motors and controls have joined the latest generation of belts to create a range with a great heritage but bang up-to-date, and with a deserved reputation for quality and reliability in tough operating environments.
Took 0 milliseconds
Contact Us
Address:

29 Changi South Ave 2, level 4, Singapore 486444

Phone: +65 65456630

Email: sales@fpt.com.sg