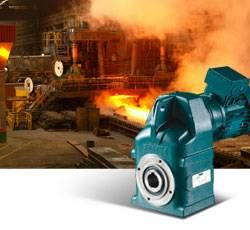 Steel Company Select Series F Geared Motor Solution
1 December, 2017
A large steel company, based in Scunthorpe, were embarking on a new project which involved designing a new conveyor line in order to move long welded rail.

The project required the straightening and cutting of rails and in some circumstances, even joining rails together. ERIKS, an Authorised Fenner Distributor, were asked to provide a suitable solution for completing the process successfully.

The Fenner Series F geared motors were chosen as the ideal solution for the application. The compact design of the parallel shaft mounted unit incorporates an integral torque reaction bracket and offers high efficiency.

In addition the Dry Fit adaptor system, allows a motor to be removed quickly and easily without oil spillage allowing for minimal downtime should a motor need to be changed - a great benefit to the steel company.

The performance and efficiency of the new system contributed significantly to the successful completion of the project, leaving the company impressed with the rugged construction, usability and quality.
Took 0 milliseconds
Contact Us
Address:

29 Changi South Ave 2, level 4, Singapore 486444

Phone: +65 65456630

Email: sales@fpt.com.sg