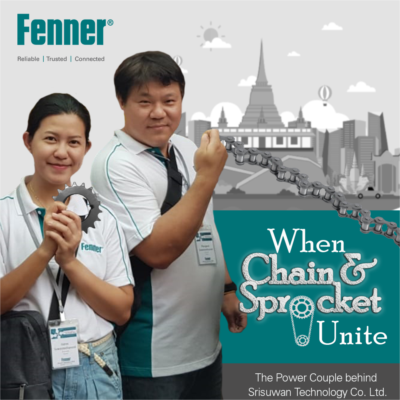 Distributor Feature: Srisuwan Technology Co. Ltd, Thailand.
30 January, 2019
Sprockets are for chains and chains are for sprockets. Together, they transmit power from one component to another. What a great illustration to describe the power couple who has been running Srisuwan Technology Co., Ltd. in Thailand for almost 5 years now. We're giving you an inside scoop on their love story, the birth of Srisuwan and inspiring advice from the couple.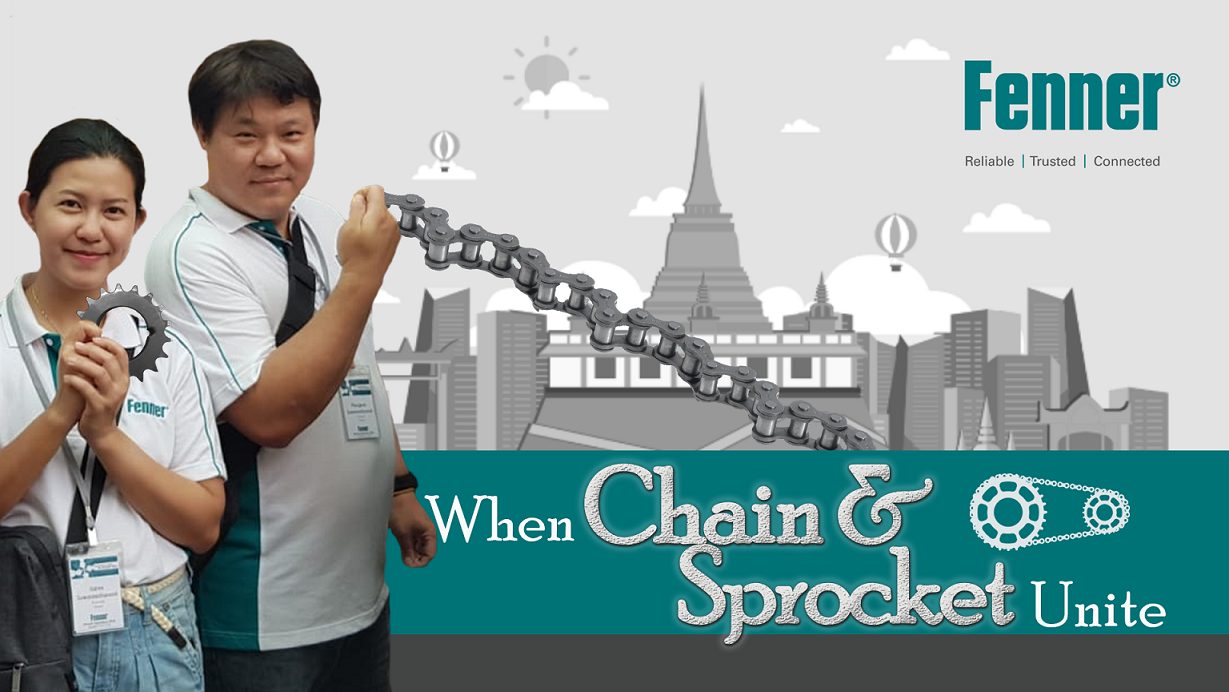 When Chain and Sprocket Unite
The Power Couple Behind Srisuwan Technology Co. Ltd.\
Sprockets are for chains and chains are for sprockets. Together, they transmit power from one component to
another. What a great illustration to describe the power couple who has been running Srisuwan Technology Co.,
Ltd. in Bangkok, Thailand.
Chain Reactions
We don't meet people by chance. People cross our paths for a reason. That must have baffled the minds of Mr. Phongkorn and Ms. Isaree when they first met at Prachin Buri Province. They were introduced to each other by a common friend. Their first meeting was just a short Hi & Hello. Little did they know that the trip will lead them somewhere else.
Few days after the trip, Ms. Isaree's car broke down and Mr. Phongkorn came like a knight in shining armor and saved her from distress. Short conversations ignited tiny sparks of attractions. It was like a chain reaction followed by a series of meetups. Eventually, the love blossomed and grew over the course of time and the two finally tied the knot in January 2010.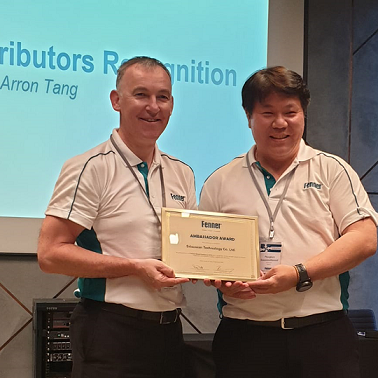 Chained to the Rhythm
Mr. Phongkorn was then working in a large Thai import and export company managing its power transmission (PT) business. In 2013, however, the said company diverted its focus to other product lines and put an end to its PT business.
Mr. Phongkorn, saw the great potential of the said business so without a shadow of a doubt, he decided to pick it up and put up his own distribution company together with Ms. Isaree. They named it after Mr. Phongkorn's family name, 'Srisuwan'.
Having good connections, technical expertise and knowing where to get good quality PT products were the pillars behind the birth of Srisuwan Technology Co., Ltd.
Srisuwan was officially appointed as an authorized distributor of Fenner power transmission products for Thailand in 2014. It offers the complete drive solutions from the prime mover to driven machine. Their products include transmission and synchronous belts, pulleys, chains, sprockets, couplings, shaft fixings, geared motors and inverters.
Geared towards the same goal, the duo was committed to making Srisuwan Technology in Thailand's Top 5 power transmission companies five to ten years from now.
Chain Links
If a chain is only as strong as its weakest link, then every chain link is worth the attention. Let's hear from the couple some advice on how they keep their links intact.
Question: What is the secret of Srisuwan for keeping up with the business amidst the competition?
Answer: "Maintaining good connection and delivering excellent customer service are key factors. Winning a customer's trust is very important to us. Making our customers satisfied with the products that we supply and the service that we provide is the secret to win their loyalty."
Question: Why did you choose to distribute 'Fenner' products?
Answer: "Fenner is a trusted brand in power transmissions. To maintain a good relationship with our customers, we need to supply them with quality products that they can really trust so I provide them with Fenner products. One of our customers, for instance, was looking for a fire-resistant anti-static (FRAS) tyre. Instead of buying the expensive FRAS tyre, we have recommended them to change to Fenner's F120 standard tyre which is more suitable for ambient 40oC temperature. After the successful installation, our customer was very happy with the product and the cost savings that they had."
Question: What advice would you give to couples out there who also dream to be copreneurs and venture on a business together?
Answer: "First, they must know how to separate personal life from work. When you're in the workplace you are not husband and wives, so you need to treat each other as professionals and deal with issues in the workplace objectively.
Second, you need to respect each other. Listen to what others have to say before expressing your opinion and treat each other with courtesy like how you treat others.
Third, you need to have the same goal. Same goal for your family and the same goal for the company. If you are aligned in these aspects, little differences that may arise can easily be settled."
Took 0 milliseconds
Contact Us
Address:

29 Changi South Ave 2, level 4, Singapore 486444

Phone: +65 65456630

Email: sales@fpt.com.sg